CNC 5 axes simultane milling machine: Mazak VTC-800/20SR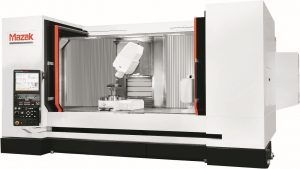 Technical specification:
Zoommachine control and performance with the launch of its SMOOTH TECHNOLOGY.
SMOOTH TECHNOLOGY incorporates the new MAZATROL SMOOTHX CNC alongside new machine hardware and servous systems to deliver an improved operator experience, faster machining times and further integrate CNC into the overall factory management system. The result is a breakthrough in CNC that uses intuitive operations in a similar manner to smartphones and tablets.
Machine Specifications:
Standard Machine

Values

CAPACITY

Table working surface (Length)

2,500 mm

Table working surface (Width)

820 mm

Saddle (longitudinal) X-axis

2,000 mm

Column (cross) Y-axis

800 mm

Spindle head (vertical travel) Z-axis

720 mm

SPINDLE HEAD

Spindle speed maximum (standard)

18,000 min-¹

FEED RATES

Rapid traverse (X-axis)

50 m/min

Rapid traverse (Y-axis)

50 m/min

Rapid traverse (Z-axis)

50 m/min

TABLE

Table length dimension

2,500 mm

Table width dimension

820 mm

AUTOMATIC TOOL CHANGER

Tool storage capacity (standard)

30